7:30am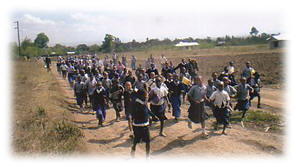 After an hour and half, we are getting closer to the school. Now, we meet up with classmates from other directions. This is the beginning of another exciting school day.
8:00am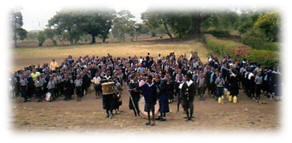 As usual, we have our morning parade and inspection. Being given the lead on this ceremony is very special.
9:00am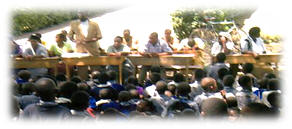 Today, we have a big meeting with our teachers, the students and their parents. We have meetings like this at the opening of every semester. We don't have an assembly hall, so we can only have meetings when the weather is good.
10:00am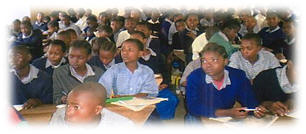 It is time for class. Its not easy to stay focused with more than 100 classmates in the same room. We do not have enough textbooks, so that we need to copy everything from the blackboard. Learning is important to us, so we don't mind.
12:00pm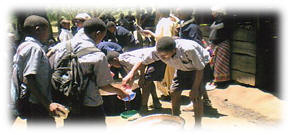 Lunch time. We help serve food prepared in the small school kitchen.
2:00pm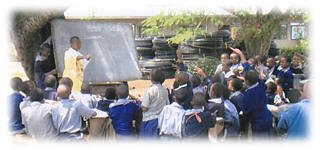 Since we don't have enough classrroms, we are having class outside under the tree. We welcome the opportunity to learn but it is hot and noisy outside.
4:00pm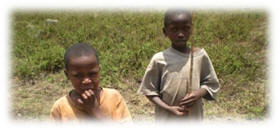 When we can not afford new exercise books or uniforms, we wonder in the village rather than go to school. We really envy the kids who are leaving the schools happily in their uniforms at this hour.
4:30pm

After school, we help with the housework and tend to the cattle.
6:00pm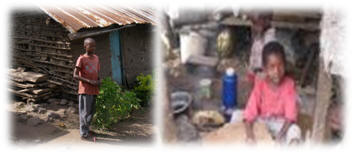 This our home. If we can, we will try to study before the sun goes down.
8:00pm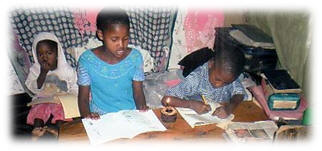 In the evening, we study by the candlelight and oil lamp. There is no electricity in the village, except near the main road. We cannot study for long as well since we need to save oil.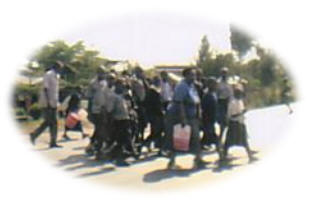 Then, we look forward to another morning ...